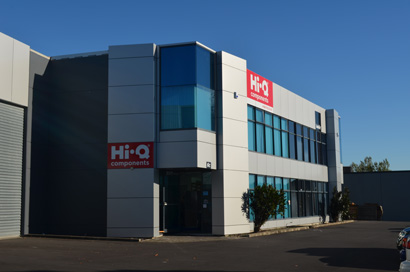 Hi-Q Electronics Ltd is a New Zealand owned business, founded in 1982 and has become a leading component supplier to many manufacturer's and industries throughout New Zealand and the rest of the world.
In 2014 we celebrated 30 years in business since being registered as Hi-Q Electronics Ltd. Hi-Q Electronics Ltd is still our legal entity, but we now trade under the name Hi-Q Components
Hi-Q Components reflects the broad component range of 8000 different component lines and 6.5 million items that we have available from stock.
Hi-Q distributes high quality Plastic and Electronic Components to a wide variety of industries including Electronic, Electrical, General Engineering, Automotive, Aviation, Marine, Refrigeration, Hydraulics, Paint Finishing, Display, Construction, Safety, Point of Sale and Furniture.
We have short lead-times, convenient minimum order quantities and can dispatch stock, the same day for earliest delivery.
High quality components are an important strength. The sources are mostly from ISO approved manufacturers in USA, England, Europe, Australia, Turkey and Taiwan
Some of the many brands we stock include:
Taiway - Switches
Dinkle – Terminal Blocks
Y-S Electronic – Connectors
Hammond – Plastic and Diecast Aluminium Enclosures and transformers
Sunon – AC & DC fans & Accessories
Bivar – Optoelectronics and Assembly Hardware
Schurter – Switches, Fuses and Connectors
STOCKCAP -Protective Products – Caps, plugs and paint masking.
VisiPak – Clear tube and packaging
GRIPWORKS – Grips
Tecnodin - Industrial Knobs and Handles and Operating Elements
Martin Spa – Martin Levelling Components
Kukamet – Toggle Clamps.
Hi-Q's objective is to meet our customers' requirements for all Protective Products, Plastic Hardware Operating Elements, Toggle Clamps and complementary Electronic Components from NZ stock.
Our professional team endeavours to provide accurate and fast order delivery. Our wealth of experience is often valuable in helping solve customer's design problems and we always invite new challenges.
Free samples are important part of the process and the service we provide, to help the customer source the right part.
Please phone, fax, and email or visit our friendly sales team for any queries, samples, orders or quotes.
---
 

Richard Higham - Managing Director

What I like about my role in Hi-Q is the enjoyment and privilege of working with my team of dedicated staff, and the challenge of being able to continue to reliably supply, such a wide range of industries and customers from stock, while also being able to fulfill their new and future requirements, as technology and their needs change.

Jay Shin - Warehouse 
"I enjoy working with good people."

Suzanne - Warehouse/Packaging
"It is a great environment to work within'

Dave McCormick - Purchasing
"I enjoy the challenge of keeping the stock to manageable levels while also ensuring we supply customers in a reasonable time frame"

Rochelle Greive - Accounts
" I love the variety of the work"

Matt Higham - Sales Representative
"I enjoy seeing all the different applications (sometimes unique & quirky) customers use our extensive range for"

Carissa  - Warehouse
"I enjoy the challenge of the job"

 

Sheena Kritzinger - Customer Service

"I enjoy the diversity of the work"

 

Elyse McCann - Customer Service

"I like how no two days are the same"