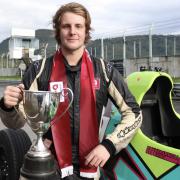 Bramwell King has claimed the 2016/17 NZ Formula First Championship in a battle that went down to the final lap of the championship. King finished second in the race to Chris Symon who made it his second time winning the season finale.
Just as the cars were released the rain came down, soaking the track with few prepared for the conditions. However, the leaders were all in the same boat, all running a dry setup.
Matt Podjursky jumped from the front row to lead Symon and King into, through and out of turn one while Dylan Smith got a blinder off the line and emerged in fourth out of the first corner.
Symon quickly moved his way into the lead while Callum Crawley took Smith's fourth spot. Crawley was then involved in an incident with Arran Crighton, which knocked the championship hopefully out of contention and forcing him to settle for third in the points.
King then made the decisive move of the championship, getting by Podjursky to confirm the tittle. Podjursky was no match for him, as King pulled a comfortable gap giving him the championship.
King's second gave him the championship with Podjursky second. Arran Crighton finished third after leading the majority of the championship. Reece Hendl-Cox is our 2016/17 Rookie Champion while our sunset driver award goes to Ron Carter.
Courtesy of Jodie Peters